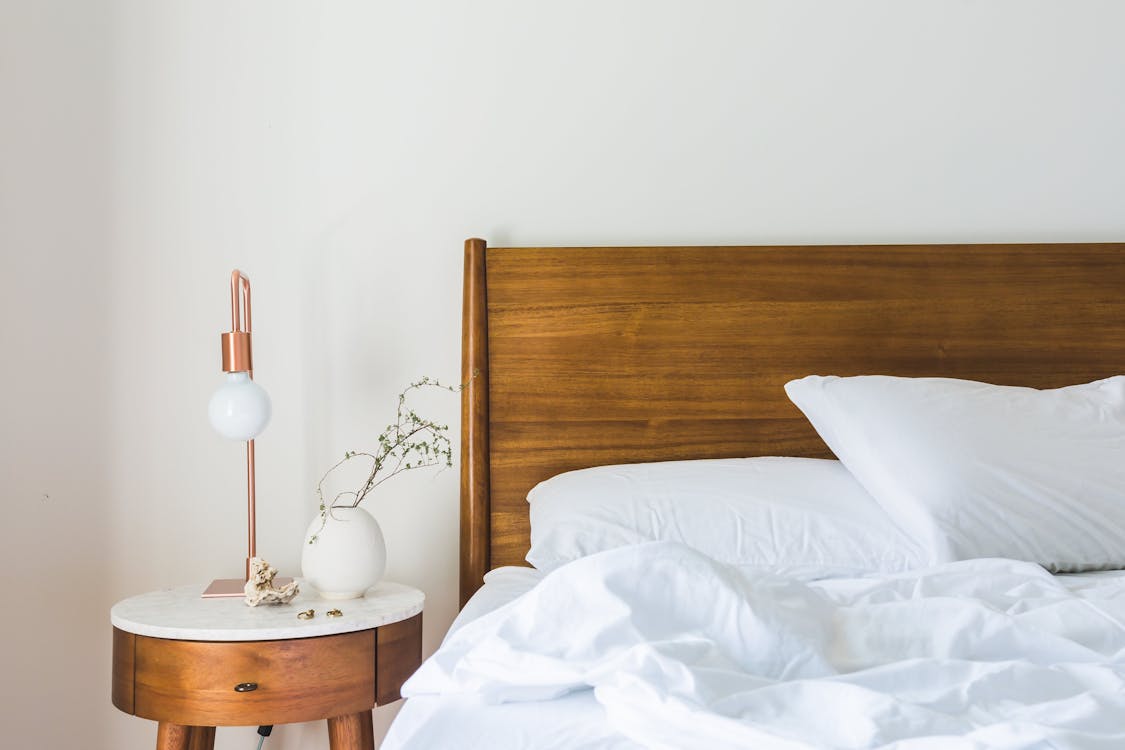 Written By: Laurie Larson
I'd love to introduce Laurie Larson today. Laurie has written a guest post, Going Green In The Bedroom.
About Laurie Larson
Laurie Larson is a freelance writer from Durham, NC. When she isn't busy writing, she loves to spend her free time working on her health and helping inspire others. You can reach her at: laurielarson94@gmail.com.
If you're trying to live a fully sustainable life, you need to consider all aspects of your daily life that can be altered and substituted for more eco-friendly options.
The first changes you make may be obvious. Starting a garden, using reusable grocery bags, and recycling are just a few typical lifestyle changes that are associated with "going green," but did you realize that you can even go green in the bedroom?
In order to reduce your carbon footprint as much as possible and live the most sustainable life you can, you need to rethink all of the details of your life. If you're getting adequate sleep each night then you probably spend around 7-9 hours a night in your bedroom, so you may as well make it green.
Here are a few aspects to think about when you're creating an environmentally friendly bedroom.
Lighting
While in other areas of the house it's easier to harness the benefits of natural lighting through your windows, it's a little more difficult in the bedroom since the sun is down during the time you spend in there. Sometimes it's just not practical to avoid keeping the lights on at night.
If you're a nighttime reader who keeps a bedside lamp on for an extended period of time, reconsidering your lighting arrangements can be extremely important to you. Look into replacing incandescent bulbs in floor and table lamps with an energy-efficient Compact Fluorescent Light Bulb (CFL) or light-emitting diode (LED) bulbs.
These alternatives reduce energy output by up to 80%. They also have a much longer life span than traditional light bulbs, so they won't require changing as often.
Your Mattress
Your mattress is arguably the largest and most important item in your bedroom, so you should take special care and consideration into all factors when selecting a mattress for your green bedroom. There are a ton of great brands out there that create organic mattresses made from 100% natural materials. When searching for an organic mattress, look for approvals from names like Oeko-Tex or a GREENGUARD Certification from the UL Environment.
Also, when the time rolls around to replace your mattress (about every 7-10 years) be socially responsible about your disposal practices. Rather than letting your mattress clog up a landfill, look into ways you can donate your mattress or have it recycled.
Bedding Products
If you're going to be sleeping on an organic mattress, you should be accessorizing with organic bedding materials too. You can cover all parts of your bedding including sheets, pillow cases , your comforter, and even your pajamas!
Check out some of the top sources for organic bedding to find what's best for you.
Adding Some Greenery
When it comes to decor in the bedroom, you're going to want to create a center for relaxation, rest, and rejuvenation. What better way is there to do this other than with a few plants?
Plants will add liveliness and color to your bedroom. They also will help mitigate pollution and gases in the air to help improve your indoor air quality. Better air quality = better sleep = better health.
Using Natural Sleep Aids
If you struggle to get to sleep at night, you may be turning to prescription or over-the-counter drugs as a sleep aid. Instead, use natural alternatives to help relax your body and mind, easing you into a good night's rest. Here are some simple options to try out:
Take a warm bath in the evening to help relax your body. You can even light candles and use essential oils to help you wind down.
Make a warm cup of herbal tea. Ones with chamomile, lavender, and peppermint are known to do the trick.
For the ultimate wind-down routine, try some nighttime yoga stretches. This will help ease your muscles and mind before laying down for bed. Not a yoga expert? Here are some simple yoga moves to help get you started.
Cleaning with Green Products
Keeping a clean home is essential to keeping a healthy home. For the most sustainable cleaning of your bedroom, be sure to stock up on eco-friendly products.
Whether it be for washing your sheets and pillowcases or cleaning the dust off your nightstand, there are a ton of options out there from socially responsible cleaning brands that will help you clean your bedroom without introducing toxic chemicals into your place of rest.