Written by" The Green Crunchy Mother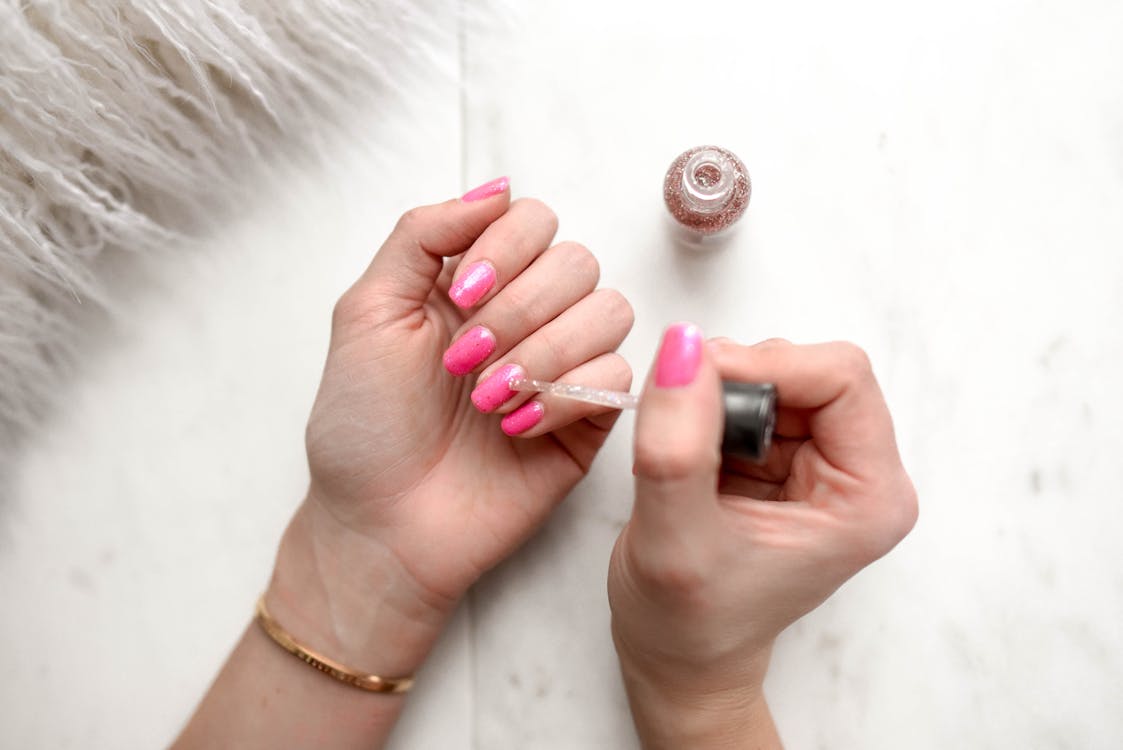 Let us talk about chemicals that can be found in your favorite nail polish brands. You heard right, conventional nail polish brands often contain nasty chemicals that can not even be pronounced.
Do I have your attention yet?
No one wants toxins on their bodies, right? For those that already know me, I try to lead a life that is as natural and toxin free as possible. It is a daily learning process and I am constantly researching and educating myself how I can improve leading a more toxin free lifestyle.
I rarely use nail polish, but when I do, I make sure that I buy it at our local health food store. They only sell the highest quality merchandise and I am certain I am avoiding harsh chemicals.
Our nails are porous and what we put on them can easily absorb into our bodies.
If toxins are a concern, this article will teach you why you should consider using 5-free nail polishes.
Why Should You Choose a 5-free Nail Polish Brand?
Your nails are a part of your body that also need tender loving care. They are an important part of your daily hygiene routine. Who wants ragged and unattractive nails that are also saturated with toxins?
Caring about your nail health also means ditching those conventional nail polish brands that be found at drug stores and nail salons. By ditching them, you are avoiding the harsh chemicals that they often contain. As mentioned earlier, nails are also porous and anything that we put on them can be absorbed into our bodies.
Have I convinced you yet to make the switch?
What are 5-Free Nail Polishes?
Conventional nail polishes and cosmetics tend to contain many unsafe ingredients that can be hazardous your health. 5-Free nail polishes don't contain formaldehyde, dibutyl phthalate, toluene, camphor and formaldehyde resin. Let's take a closer look at these five ingredients that many conventional nail polishes contain:
Formaldehyde
Formaldehyde is a colorless gas and it can cause irritation of the eyes, nose and throat. It can also worsen asthma symptoms, especially in children. It has also been associated with cancer of the nasal passageways.
Source of information: https://www.canada.ca/en/health-canada/services/chemical-substances/other-chemical-substances-interest/formaldehyde.html
Dibutyl Phthalate
Dibutyl phthalate (pronounced thal-ate), or DBP, is used mainly in nail products. DBP is absorbed through the skin and it can enhance the capacity of other chemicals to cause genetic mutations. It has not been shown to be a mutagen itself. According to the European Union, "The European Union classifies DBP as a suspected endocrine disruptor on the basis of evidence that it interferes with hormone function, and as toxic to reproduction on the basis that it may cause harm to the unborn child and impair fertility".
Source of information: https://davidsuzuki.org/queen-of-green/dirty-dozen-dibutyl-phthalate/
Toluene
According to The Campaign for Safe Cosmetics, "Toluene is a toxic chemical used in in nail products and hair dyes. Exposure to toluene can result in temporary effects such as headaches, dizziness and cracked skin, as well as more serious effects such as reproductive damage and respiratory complications".
Source of information: http://www.safecosmetics.org/get-the-facts/chemicals-of-concern/toluene/
Camphor
At one point, camphor used to be made by distilling the bark and wood of the camphor tree. Today, camphor is chemically manufactured from turpentine oil. It can be found in products such as Vicks VapoRub.
Source of Information: https://www.webmd.com/vitamins/ai/ingredientmono-709/camphor
Formaldehyde Resin
What is formaldehyde resin? It is a synthetic resin product made with formaldehyde as a base ingredient. It has many uses and is one of the oldest synthetic resins around.
The CIR (Cosmetic Ingredient Review) Expert Panel evaluated the scientific data and concluded that Tosylamide/Formaldehyde Resin was safe as a cosmetic ingredient.
Source of Information: http://dovechem.com/products/formaldehyde-resin/
https://cosmeticsinfo.org/ingredient/tosylamideformaldehyde-resin-0
Now that you know what 5-Free nail polishes are, will you make the switch to a healthier nail polish brand?
What nail polish brand are you presently using?