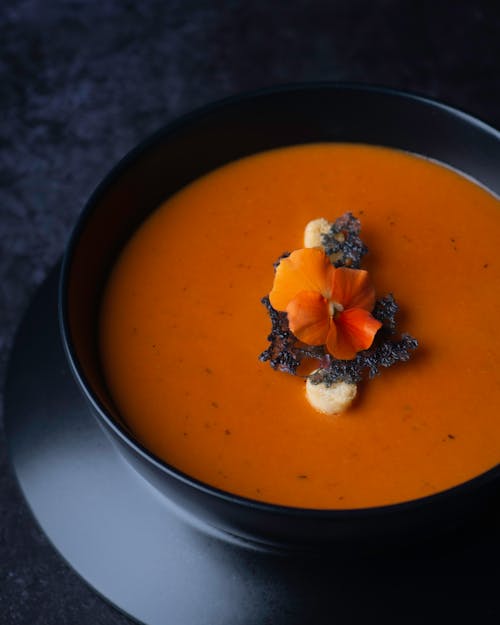 Who does not love home made tomato soup? I consider this to be a classic childhood comfort food. I have been experimenting with a lot of new recipes lately considering that we are home so much because of the Covid-19 Pandemic. For me, cooking and baking has been very healing during these very difficult and trying times.
The flavor of tomatoes, basil and garlic will draw you in and I'm confident your family and friends will love it. It will be hard not to eat the whole pot of Roasted Tomato Basil Soup so you can even double up this recipe to eat at a later time.
Ingredients
2 large onions (about 2 cups chopped)
3 28 ounce cans diced plum tomatoes (divided)
1/4 cup olive oil
1 1/2 teaspoons sea salt
1 teaspoon black pepper
1/2 teaspoon minced garlic
8 cups vegetable stock
1/8 teaspoon red pepper flakes
1 teaspoon dried thyme leaves
4 cups fresh basil (packed)
1 cup half and half or dairy free milk
Instructions
Step 1: Chop & Combine
Peel and chop the onions. Use a food processor to rough chop the onions into medium sized pieces.
Dump the chopped onions into a large bowl.
Drain 2 cans of tomatoes, reserving the juice. I drain them directly into my soup pot. Put the drained tomatoes into the bowl with the onions.
Add the olive oil, garlic, salt and pepper to the bowl and stir to combine.
Step 2: Roast
Heat oven to 400F degrees.
Spread the tomatoes/onion mixture in a thin layer on two baking sheets.
Roast the tomato mixture for 40 minutes, turning the mixture over with a spatula halfway through.
Step 3: Put it Together
Add 8 cups of vegetable stock (or water and bouillion) to the stockpot. (You should already have the juice of the tomatoes in the pot.)
Add the third can of diced tomatoes with juice to the pot.
Scrape the roasted tomato/onion mixture into the stockpot. Stir to combine.
Add the red pepper flakes and thyme to the pot.
Chop the basil and add it to the stockpot. I use my food processor and pulse to chop until it is well chopped but not total mush.
Stir to blend the ingredients.
Use your immersion blender to make the soup smooth. (Isn't this the greatest tool?)
Step 4: Simmer & Finish
Simmer uncovered for 40 minutes to reduce the liquid a bit and blend the flavors.
Ten minutes before serving, stir in the half and half (if using) and continue heating the soup gently until hot, about 5 minutes.
Serve the soup as is or with a little Pecorino Romano sprinkled on the top.
Serves: 12
Serving Size: Each serving is about 1 1/2 cups.
Enjoy!